Nutonian - At the Cutting Edge of Technology, Science, and Data Analysis
Nutonian is one of those companies that is way smarter than you or I. 
Eureqa, Nutonian's main product, has been called a "synthetic scientist", a downloadable robot scientist, and able to "derive meaning from datasets too large or complex for humans to study."
The company developed Eureqa as a technology to simplify and automize the scientific method of research. Basically, Nutonian's products can quickly find relationships within vast quantities of data in order to "solve" some of the laws of nature, science, and mathematics that have always seemed too daunting (whether due to the sheer volume of data to sift through or the amount of time required for experiments) to find solutions for, analyze, or apply to business, robotics, or other data heavy sectors.
Nutonian was officially founded in 2011, but Eureqa and the idea of distilling large quantities of data to solve some of the most complex problems facing scientists and researchers was developed at Cornell University in 2009. Hod Lipson, a computer engineer/researcher and the director of Cornell University's Creative Machines Lab, and Michael Schmidt, who was one of Lipson's Ph.D students, created the algorithm/technology while working on a complex robotics problem.
"It all started out as a research project in grad school," Schmidt said. "What we were really trying to do was accelerate discovery. Around that time, we had this breakthrough in terms of technology."
The Lipson/Schmidt team created a demonstration program called Eureqa, that served as a way, as Schmidt says, "To show off the state of the algorithm/technological approach."
"For whatever reason," he explained, "that was significantly popular, especially with anyone working with data in research and engineering. We had about 10,000 downloads and installations in the first nine months."
"Today we've had about 45,000."
Want some deeper insight into what has attracted so many researchers, scientists, business analysts, etc.? Watch Michael Schmidt explaining how Eureqa works on the Science Channel's "Through the Wormhole":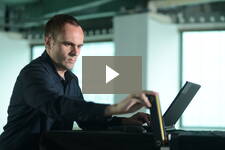 "What we had to figure out, Schmidt explained of the success of Eureqa, "was why there such a huge demand for this type of approach, this type of algorithm."
What Nutonian found was that "It fits into a need that's untapped in machine learning, being able to predict things and explain why they are happening."
"Nutonian's products are gaining insights from data and making discoveries from the data you have." Schmidt said. "Primarily, [in science and other sectors trying to make sense of huge swaths of data] the focus has been on being able to do stuff where you don't necessarily know what the most important questions are to ask."
Nutonian has "the right technology to go in and find the most important features and explain those back to you. That's the basis of our technology."
"We're flying now," Schmidt said, "these are very exciting times here."
In particular, a lot of the excitement surrounding Nutonian is related to how Eureqa and its other products can be leveraged in enterprises, or for business analysis and beyond.
One interesting use case is with Rio Tinto, the giant mining company. Nutonian helped the company with quality control, allowing them to maximize the quality of one of their most complex operations.
As Schmidt explained, "They used our software to crack a case. It validated what they already understood."
(The entire case study can be found on Nutonian's website.)
Nutonian raised $4M from Atlas last fall. Schmidt said that they are planning on using the funds to continue to work on the algorithm, to scale out the product, and to add new members to the team.
The recently released their "next big thing," an integration with Microsoft Excel. As Schmidt explained, Excel is "the ultimate tool for data scientists." Nutonian wants to allow its products to "model data analysis to any Excel user, simplifying it."
The Excel rollout, which is still in beta, has the aim of reaching untapped sectors that could benefit from Eureqa's suite of products. "We want to broaden the scope of our audience with more enterprise integration," Schmidt said.
Chris Lynch, the key figure in Atlas's investment in Nuntonian sees big things ahead for the company in the enterprise sector as well. As he said, "The way that I view it, it's the first product of its kind that marries artificial intelligence and business intelligence, where they can provide somebody a data scientist in a box."
"They can identify tons of data that legacy statistical systems can't see," Lynch added.
Nutonian can "formulate questions through advanced machine learning algorithms," he explained, "they answer those questions and recommend action. All with no human being involved."
"I think that's a major paradigm shift," Lynch added. "I think ultimately, it's going to be transformational because it's going to put the power of analytics in the hands of the 99%-ers, not just the 1%-ers."
"Data science is no longer for just data scientists, its for business analysts and marketing analysts and consumers."
Dennis Keohane is the Senior Writer for VentureFizz. You can follow Dennis on Twitter (@DBKeohane) by clicking here.