Thursday, April 18, 2019 - 6:30pm
Join RaisedBy.Us To Support New York State Census Outreach Efforts
Location:
Brother Jimmy's BBQ
New York
,
NY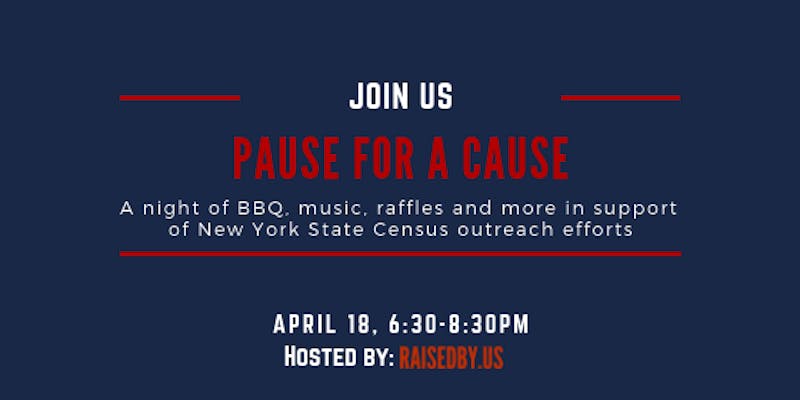 Grab a drink and take a breather from the busy week to raise critical funds and awareness for local organizations working to ensure an accurate count in 2020. Event is hosted by the RaisedBy.Us Junior Advisory Board.
One ticket includes:
One complimentary drink
All your favorite Brother Jimmy's food
One chance to win a door prize donated by a RaisedBy.Us partner company (but we suggest you grab more raffle tickets when you arrive!)
Live music by the amazing Kevin Sloan
Networking with the RaisedBy.Us community and likeminded do-gooders like yourself
---
The cause: Making every voice count
The Census is a big deal. The data collected will impact almost every vital service and program in NYC and nationwide. Think airports, roads, nonprofit grants, etc. But nonpartisan experts agree that getting an accurate count in 2020 will be extraordinarily difficult because of data security fears and government intrusion, along with a national political climate that makes immigrants afraid to be counted. In addition, budget cuts at the Census Bureau will likely result in fewer people available to follow-up with households that fail to respond initially, putting more people at risk of going uncounted.
Efforts are underway to support nonprofit groups that reach hard-to-count communities, working to prevent loss of federal money and representation, not only in the city but also in Westchester, Long Island, and throughout New York State.
Your host: The RaisedBy.Us Junior Advisory Board
RaisedBy.Us, a not-for-profit organization, enables social good through employee giving, volunteerism and community events. The RaisedBy.Us Junior Advisory Board is a cohort of young professionals supporting the RaisedBy.Us vision of leveraging workplace dynamics to narrow the gap between wanting to give back and actually doing it.